This website uses cookies.
This website uses cookies to ensure you get the best experience on our website. If you continue browsing, you agree to the use of cookies. Learn More
5 lessons learned from working with railway giant SBB
7 min read
Qsome Team • May 17, 2021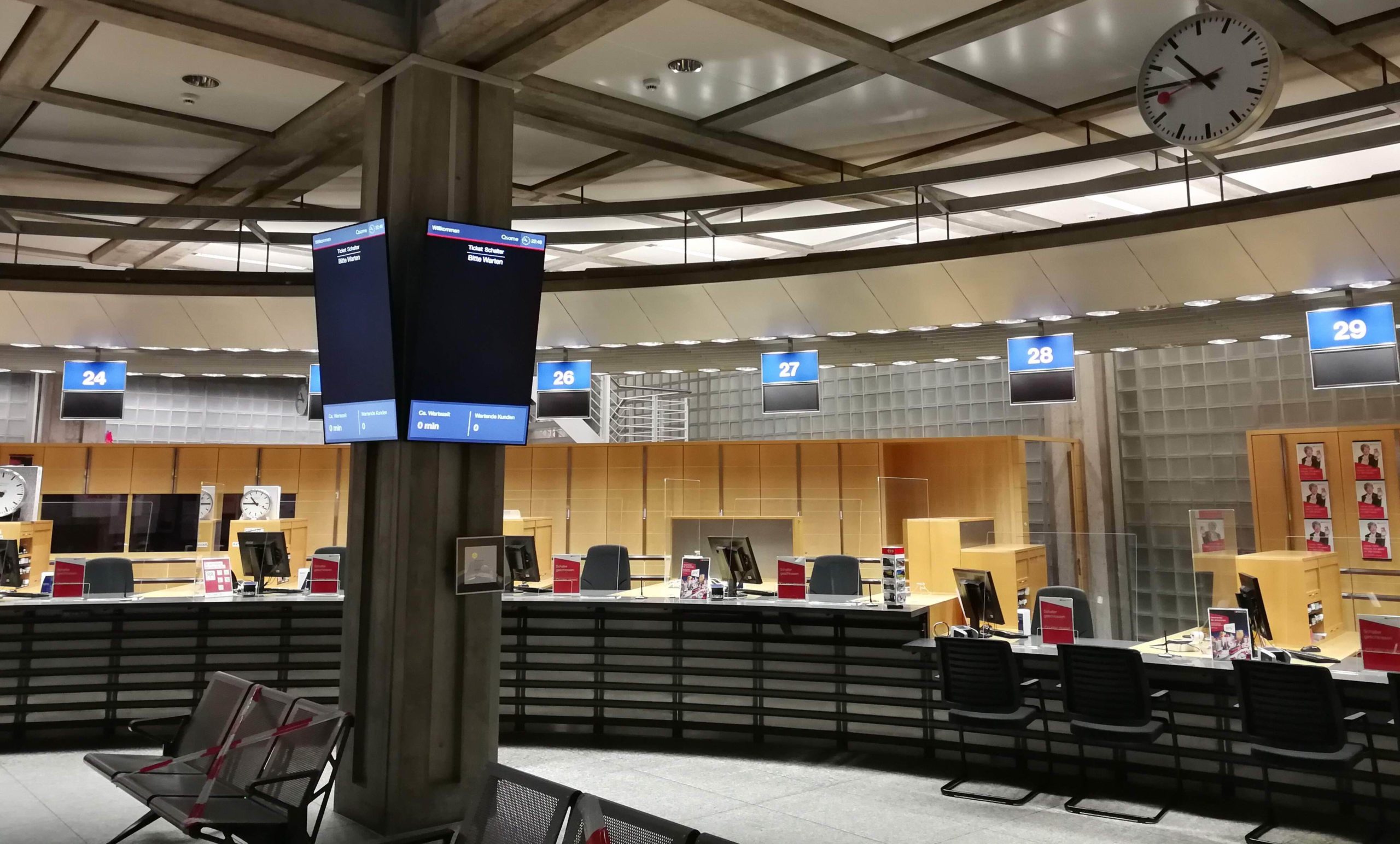 The pace of digitalization is faster than ever. Thanks to advanced technologies, today we live in a world of comfort: we use GPS and voice assistants, have instant access to mobile banking and cashless payment, our wearable health trackers help us steer clear from the doctor's office, and our next meal is always just a few clicks away.
The same standard applies to travelling. When people are in a train station waiting for a journey, convenience is extremely high on their list. Here's one thing that's definitely NOT on the list: waiting in long physical lines to get the service.
SBB (Swiss Federal Railways) – the national rail operator in Switzerland – knows it firsthand. It has 1,25 million passengers using its services every day. Imagine a crowd of 1,25 million people, each expecting a smooth queueing experience.
It should be noted that people don't necessarily oppose the fact that they have to queue at all. It's rather about how queues are dealt with that becomes the issue – or, to the contrary, brings a positive experience.
What exactly did SBB need? It required a Software as a Service (SaaS) solution that would be:
Mass-scalable, capable of handling the hefty load;
Able to offer powerful tools to collect and analyze large volumes of data;
Intuitive and highly configurable (as there would be 32 thousand employees using it);
ISO/IEC 27017 standard-compliant.
Customer experience is a competitive battlefront – and when you're processing 1,25 million customers daily, there's a lot at stake. SBB tried to find a partner to accommodate their employees' and clients' exact needs – and it was challenging (to say the least).
Until Qsome team stepped in.
We knew we were ready to provide the required level of flexibility and expertise. We aimed to help SBB take the pressure away from queuing.
Now, some time later, we can look back at some lessons our team learned along the way. Here is how we moved the needle.
1. There's no "one size fits all" solution – but previous experience helps.
Our earlier success with clients like Swisscom, Medcenter, and Zurich Circle taught us there's no uniform approach that always works best. Being skilful is contextual – it's the ability to use specific strengths and make reasonable decisions within a given context. There's not always a playbook to follow – but the more practice and contextual knowledge you have, the easier it is to find methods that work.
2. Don't fight all battles on your own – choose your partners well.
If there's one thing we know about quality work, it's that you can't always do everything on your own. In our case, we chose a reliable collaboration partner, which had prior experience with SBB (offering various customer journey solutions).
Local system integration partner was responsible for multiple things:
Mounting self-service terminals (SST) allowing clients to get into a virtual queue;
Setting up customer information screens to display queue changes;
Managing the travel centre's infrastructure to ensure it runs properly, etc.
Above all, it's easier to soar to fresh highs when you have someone to count on.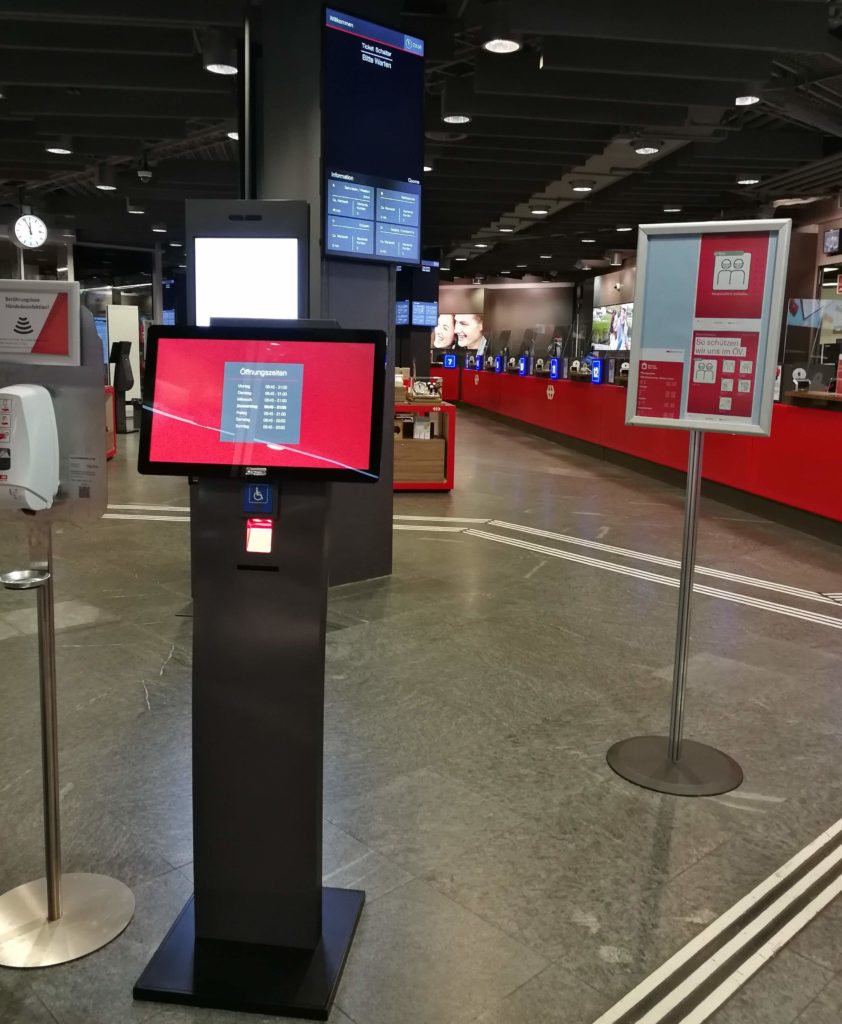 3. Flexibility in complex situations works as a powerful "secret weapon ".
When your system is meant for large-scale organizations such as SBB, it often boils down to flexibility and dynamic response. Off-the-shelf applications are sometimes not enough – you must react to traffic conditions and provide customized, advanced, feature-rich solutions.
SBB has chosen Qsome SWARM setup, including a high-end self-service terminal, cloud hosting, and Single Sign-On authentication method. Qsome SWARM allowed SBB to have multiple points of services, all connected to a unified Qsome solution.
A flawless client journey often requires numerous steps of action, many of which the final customer never gets to think about.
4. Organize a pilot launch fast to see the areas for improvement.
The spring of 2019 – this was the first time we presented the initial version of our solution. It was configured in a pilot shop in Bern. The design was adapted to SBB's design styles to stay in line with the corporate identity.
What were the added features and changes?
Redesign of Customer Information Screen (CIS) – to boost user experience;
Possibility to use multiple CIS and SST in the same point of service;
More statistics data displayed on Qsome administration;
Support for tablet processing;
Improved appointment management area;
Third-party integration (which was instrumental to SBB internal data analysis team);
And others.
5. Listen to your clients carefully, then act.
We launched our first real shop in Fribourg on October 9, 2020. Our team wanted to test the solution with real users for a month, then integrate the remaining shops.
We believe in-depth insights are crucial to driving real change. And we knew that SBB employees and their customers would shed light on possible points for advancement.
So after the first integration, we listened to users' feedback, discovered which areas could be optimized, and implemented multiple tweaks so that the system could operate at full stretch.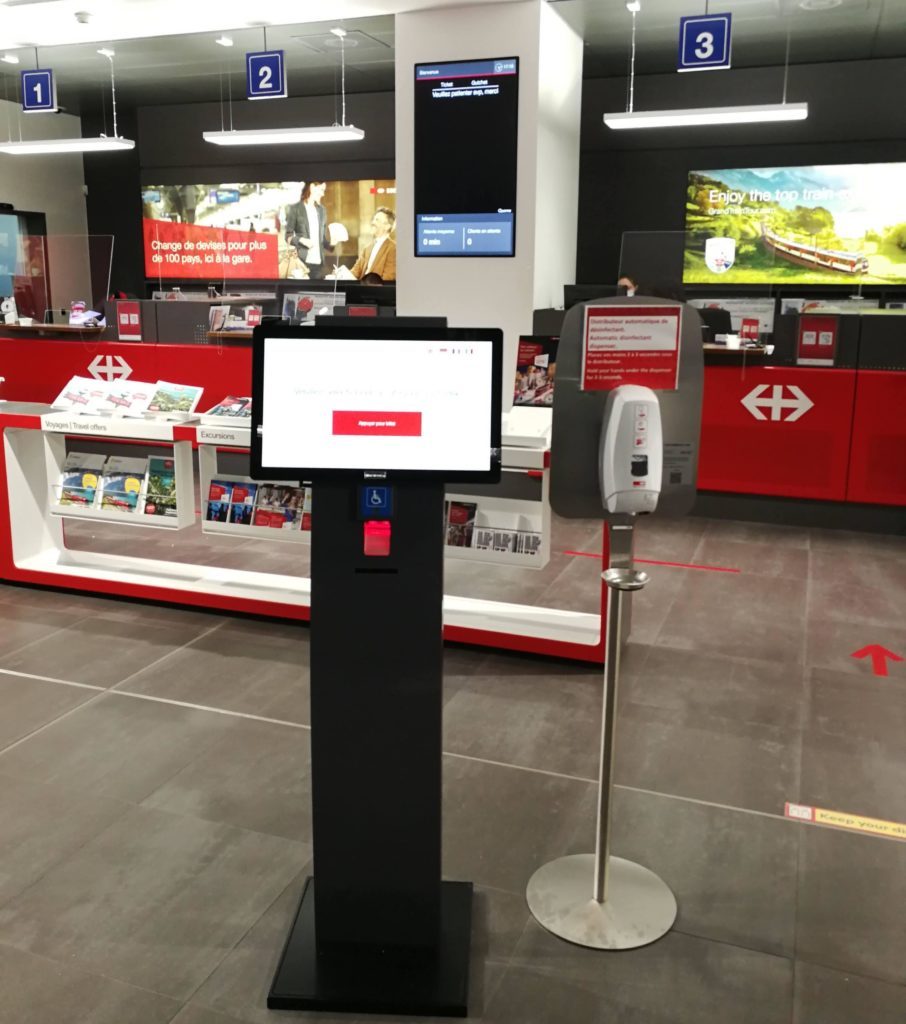 Other big deliveries for travel centres in Bern, Basel and Zurich followed soon afterwards.
Zurich HB Main Station travel centre was the largest travel centre of SBB. It included 34 desk tables (with employees providing services to customers) and two self-service terminals to enter the queue.
Full integration was finished in 2020, with the most critical rail station in Switzerland running on Qsome (phasing out legacy system from Qmatic).
We maintain that honest feedback is often the backbone of success. The comments and suggestions received from SBB employees and their clients were overwhelming in quantity (and motivated to raise the bar of performance even higher).
*****
It was just the start. At the beginning of 2021, we already knew this year would be packed with new ideas and feature extensions. Excellent service doesn't happen by accident – it's a result of continuous effort, day in and day out.
SBB and Qsome continue to work closely on new concepts and innovative solutions. Qsome will be integrated into other service points in the following years, elevating the customer experience to the next level.
After all, you don't simply wish for customer satisfaction. You get out there and work for it.
More Readings
Industries we serve
Learn how Qsome can upgrade your customer journeys